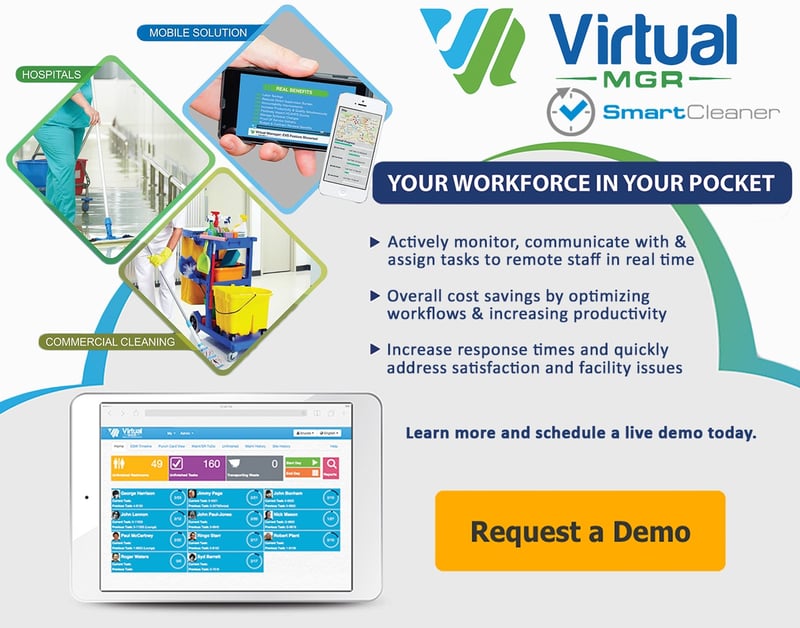 Virtual Mgr | SmartCleaner — Environmental Services & Cleaning Management Software Solution
No other environmental and cleaning services management platform available on the market delivers more power, flexibility, and potential savings for your facility.
Virtual Mgr/SmartCleaner is a real-time, cloud-based, mobile software solution that helps healthcare and cleaning administrators take control of your budgets, cleaning staff, and resources. It is an all-in-one product designed specifically for the healthcare and janitorial markets that comes right out of the box with dynamic management tools, data gathering & reporting capabilities, as well as scheduling, tracking, training, and compliance features that far surpass other management platforms available on the market today.
Virtual Mgr Case Study: University of Rochester Medical Center (URMC)
Watch Mark Schwartz, Director of Operations, and Chris Licata, Assistant Director of Facilities & Environmental Services, at the University of Rochester Medical Center briefly discuss how Virtual Mgr has generated impressive savings for the URMC while improving their efficiency, quality, safety, and employee satisfaction.
Contact us to request a live demonstration and to learn more about how URMC hit their ROI within only four months.

---
The Competitive Advantage of Virtual Mgr/SmartCleaner
Properly training, managing, and monitoring your staff is one of the most essential elements in managing the ongoing costs of your facility and helping keep operating expenses at reasonable levels, especially within healthcare related and educational facilities. Virtual Mgr/SmartCleaner includes a variety of powerful tools that can be custom-built to help you more effectively deploy your resources, both financial and human, ultimately saving you a significant amount of money over time. Let's examine how it does this more closely: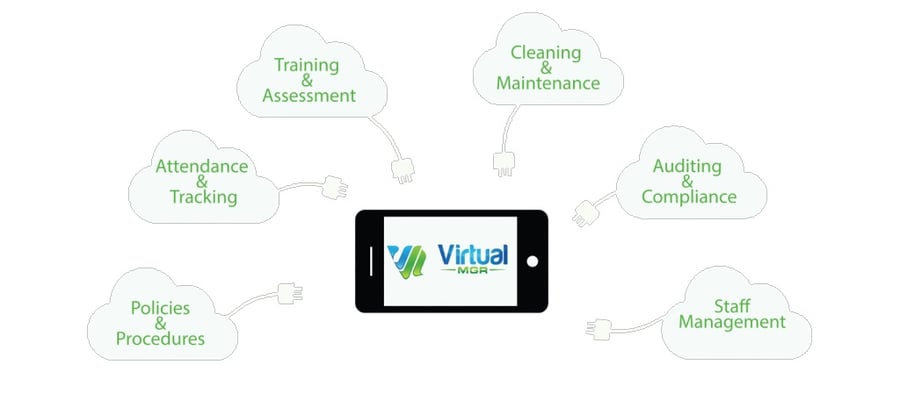 Workflow Management

Create, schedule, and/or reassign daily and reoccurring tasks in real-time to adhere to cleaning standards, ensure satisfaction, and minimize health risks.

Get real-time updates including dates, geo-location & task completion time-stamping.

Includes maintenance reporting and ticketing system.


Attendance & Tracking

See the position of your staff in real-time as they move through their workday.

Easily reassign staff to deal with issues or absenteeism.

Predict shift duration times.

Completely eliminate paper timesheets with automatic time tracking.

Analysis & Reporting

Physically map out your facilities to assist in designing task lists and schedules.

Create benchmarking tasks in order to help compare performance against pre-defined standards you set.

Gain insight on exactly how time is being spent in your organization to analyze performance trends.




Staff Management


Easily move employees between different rosters and teams.

Gather data for performance appraisals.

Easily manage leave requests.

Setup a staff training register.

Receive alerts regarding staff training expiry.

Award 'kudos' feedback for jobs well done.

Staff Training & Performance

Facilities realize a labor savings of 10-15%; poor performance is gradually managed out as managers identify staff in need of additional guidance and training.

Eliminate classroom training days.

Automatically send training material to staff.

Avoid manually marking of assessments.

Save new accreditations to staff profiles.

Policies & Procedures

On-demand access in the field to training and compliance documents, videos, guides, and procedures.

Receive verification that staff has reviewed critical training and enable them to digitally sign distributed documents.

Easily keep your entire staff up to date on important policy changes.



Cleaning & Maintenance

Cleaning staff in the field can easily use their assigned tablet to mark off completed tasks, take pictures of completed work, take pictures of maintenance issues and send work orders, automatically loop-in other users when decision making is required, show proof of work completed, and refer to relevant procedure documents while working in the field.

Administrators can compare actual staff performances against expected timeframes via Workloading (ISSA/APPA/custom), fast track maintenance issues, verify work, streamline communications, and more to create greater ownership, better maintenance, and an overall cleaner and healthier facility.



Rapid Communication

Quickly identify and resolve exceptions, risks, and maintenance issues.

Communication thread is created so that updates and responses can be thoroughly tracked leading to significant improvement of quality.

Immediate incident or maintenance reporting allowing real-time resolution.

Multi-Lingual, Multi-Platform

Easily integrates with existing systems and can be utilized on any smartphone, tablet, desktop computer, or device you prefer.

Supports both English and Spanish.

Additional languages can be added by download.

Easy To Use & Install

Simple drag-and-drop functionality in an easy-to-operate interface accessible on any device.

Each device has a security lock on the cleaning cart and is in a sturdy, high impact protected case – not one incident yet!

Absolutely no HIPAA or other confidential data is touched by Virtual Mgr/SmartCleaner, ensuring legal compliance and cyber security.



Additional Free Features Specifically for Healthcare Facilities:




Higher Reimbursement Rates For Healthcare Facilities

Healthcare organization's HCAHPS and TJC compliance scores can have a significant impact on both your reimbursement rates and your insurance premiums, directly impacting your bottom line. Virtual Mgr can help directly cut these costs, enabling facilities to realize significant OPEX savings, while at the same time helping you qualify for performance-based incentives, and a variety of other positive financial benefits.




HCAHPS Improvements

Proactively identify and resolve maintenance issues before patients notice them, p

ositively impacting HCAHPS scores and their subsequent reimbursements.

Streamline communications and performed maintenance work, d

ramatically speeding up inspection time throughout your facility.


JCAHO Records

Easily document and photograph preventative maintenance work while simultaneously creating a digital TJC compliance record.

Speed up the documentation and policy compliance process enabling you to cut the amount of time spent on proactive inspections by 50% or more.


Insurance Savings

Prevent the spread of healthcare-associated infections (HAIs) by easily accessing documents and procedures in the field, and recording time spent in individual rooms.

Receive potential premium reductions from your insurance provider based on your preventative actions through the utilization of Virtual Mgr.


Watch how Virtual Mgr/SmartCleaner is changing the way healthcare and cleaning services are optimizing their operations and better serving their guests.



Contact us to request a live demo and streamline your operations, budgets, staff, and resources.
---

Virtual Mgr/SmartCleaner's Simple 5-Step Installation Process
Information Gathering

Installation begins with an in-depth discovery period focused on identifying important details of your facility, such as total number of users, permissions hierarchy, scheduling requirements, physical characteristics of your organization, etc. This information is then programmed into the management system, creating your initial user database with specific requirements and system benchmarks, as well as populating the system with your cleaning and maintenance documentation, training material, and other resources.



Setup & Customization

After your relevant information is populated in the management system, either your IT department, outsourced IT vendor, or our team can help with any additional configuration or customization requests, such as provisioning your devices, creating housekeeping schedules for your staff, helping to secure your devices from theft, or other additional management services.



Hardware & Equipment Purchasing

The next step is to purchase the hardware and equipment you'll be using and you can either provide your own devices, or we can source them for you. Decisions about accessories are also made at this time; will users have stylus pens? How about cases? Would you prefer staff tablets to be mounted directly on cleaning carts? Your new management platform is then installed onto the devices.



Customized 1-on-1 Training

The last step is to execute training for yourself and your cleaning staff. We will work with you to develop a flexible training program that accommodates your department's schedule. During software training, the team will teach your frontline janitorial staff how to use the platform and managers and supervisors will receive a more in-depth training on the software's dynamic features. Once complete, your cleaning staff will be ready to use the management platform right from the start.



Launch and Begin Streamlining Your Operations!

After training is complete, you and your organization will be in possession of all the equipment, education, and knowledge necessary to begin using your cleaning management software to its full potential. You can choose to phase in usage and operation of your new customized solution at your leisure and convenience. If you encounter any issues, obstacles, or roadblocks during or after your launch, our team will be there to assist you every step of the way to ensure exceptional outcomes and long-term success.
---
Contact us to schedule a demo and streamline your operations, staff, and budgets today.