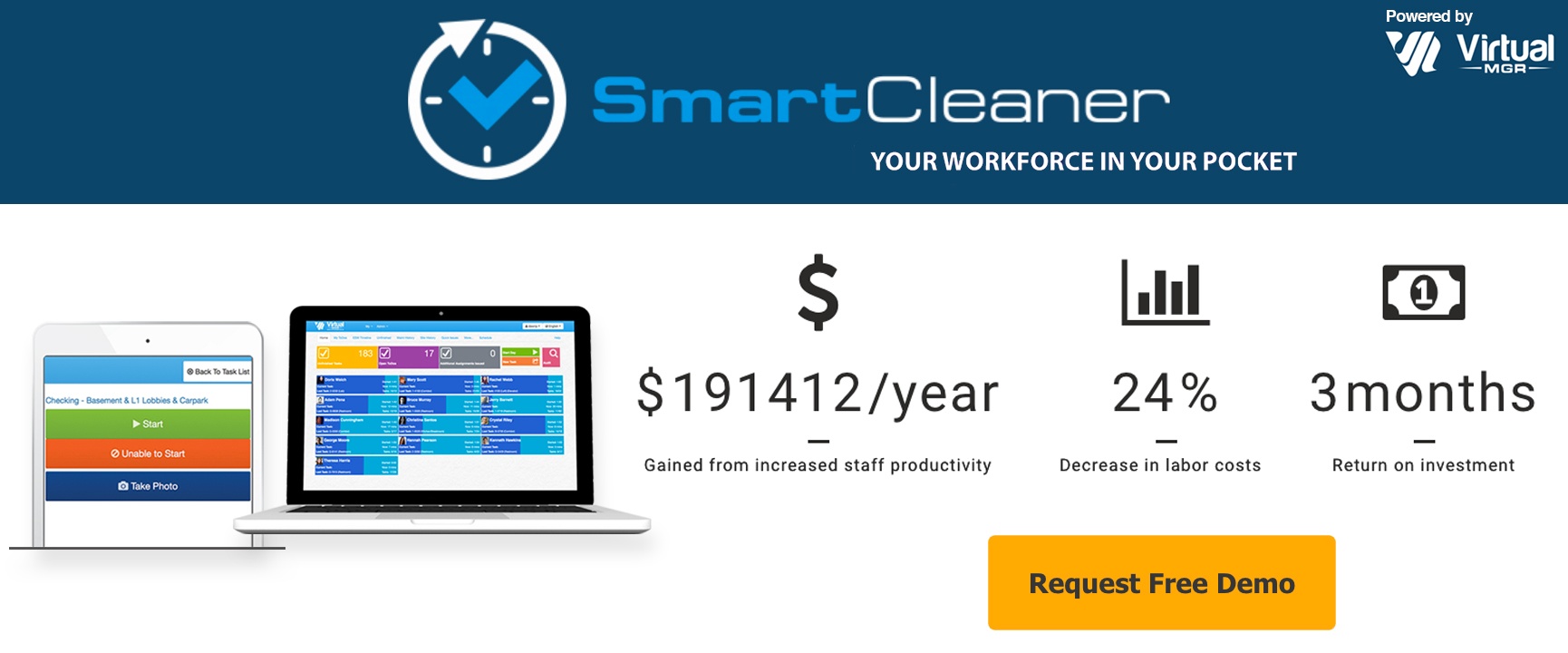 ---
Remotely manage workforce and task completion across multiple locations to utilize staff and resources efficiently.

SmartCleaner is a complete software application specially designed for commercial cleaning companies and any organization with cleaning staff. Supervisors assign pre-set schedules to the required staff for the day and then track the progress of these schedules to ensure tasks are completed in a timely manner.
Employees log when a task has been completed and report any maintenance issues to SmartCleaner, which is automatically sent to the supervisor or relevant maintenance department. Tracking inventory usage is made available to understand if certain products are being under or overused by staff.
Get smart about your cleaning operations and gain valuable insights of your workforce to boost efficiency levels and reduce labor costs.
---
Increase Efficiencies and Reduce Labor Costs with SmartCleaner

Properly training, managing, and monitoring your cleaning staff is one of the most important elements in managing the ongoing costs of your facility and helping keep operating expenses at reasonable levels. SmartCleaner includes a variety of powerful tools that can be custom-built to help you more effectively deploy your employee and financial resources ultimately saving you a significant amount of money over time.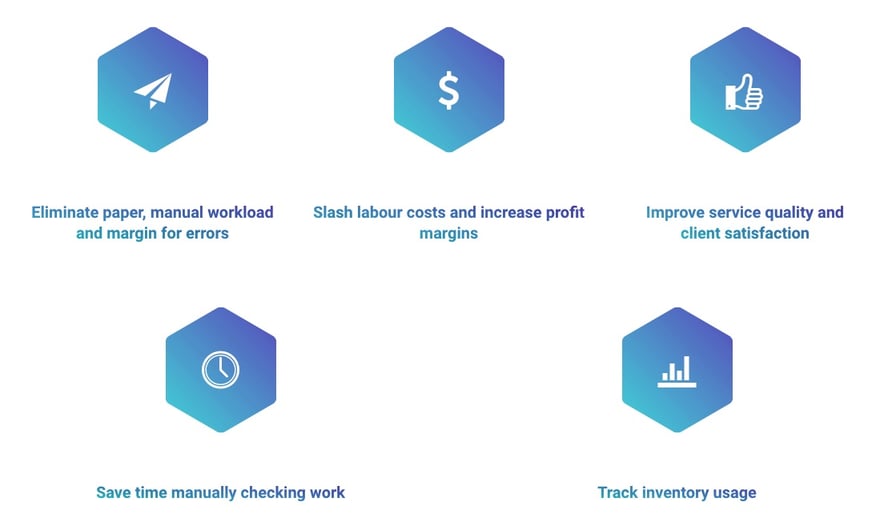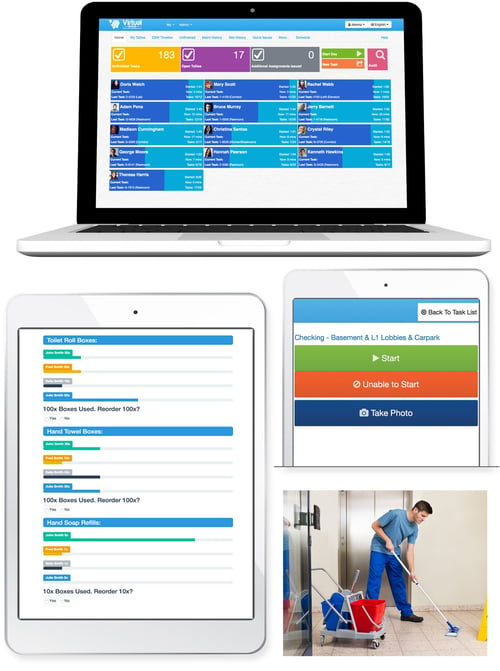 ✔ Real-time, live data
✔ Automated schedules and staff assignments
✔ Electronic auditing
✔ Staff location monitoring
✔ SMS and email alerts
✔ On-demand access to training guides and procedures
✔ Estimated vs. actual time durations
✔ Maintenance reporting and ticketing system
✔ Detailed reporting and analytics
✔ Multi-lingual, easily integrated, user friendly platform
✔ Improve worker productivity
✔ Ensure customer satisfaction
Managers have the ability to monitor staff efficiencies via the intuitive Dashboard. This data can then be used for greater staff utilization in order to cut labor costs and determine forecasts for future contracts. With the help of SmartCleaner, facilities realize a labor savings of 10-15% as poor performance is gradually managed out as managers identify staff in need of additional guidance and training.

SmartCleaner enables field workers to report maintenance issues at the touch of a button and take pictures of completed work to improve contract renewals and demonstrate value to management. With automated reporting, clients can receive detailed analytics that proves tasks were completed at any given location.



"Virtual Manager has given us an incredible insight into our field based activities, we can see daily jobs being completed in real-time and can provide up to the minute feedback to the public. Our team feels more empowered and it is reducing our daily workload significantly. In addition, Virtual Manager had an incredible ROI of less than a month."
Ryan Jones
Facilities Director, The Advanced Group
View case study
Optimize your operations and remotely manage your workforce.


---



SmartCleaner's Simple 5-Step Installation Process
Information Gathering

Installation begins with an in-depth discovery period focused on identifying important details of your facility, such as total number of users, permissions hierarchy, scheduling requirements, physical characteristics of your organization, etc. This information is then programmed into the management system, creating your initial user database with specific requirements and system benchmarks, as well as populating the system with your cleaning and maintenance documentation, training material, and other resources.



Setup & Customization

After your relevant information is populated in the management system, either your IT department, outsourced IT vendor, or our team can help with any additional configuration or customization requests, such as provisioning your devices, creating housekeeping schedules for your staff, helping to secure your devices from theft, or other additional management services.



Hardware & Equipment Purchasing

The next step is to purchase the hardware and equipment you'll be using and you can either provide your own devices, or we can source them for you. Decisions about accessories are also made at this time; will users have stylus pens? How about cases? Would you prefer staff tablets to be mounted directly on cleaning carts? Your new management platform is then installed onto the devices.



Customized 1-on-1 Training

The last step is to execute training for yourself and your cleaning staff. We will work with you to develop a flexible training program that accommodates your department's schedule. During software training, the team will teach your frontline janitorial staff how to use the platform and managers and supervisors will receive a more in-depth training on the software's dynamic features. Once complete, your cleaning staff will be ready to use the management platform right from the start.



Launch and Begin Streamlining Your Operations!

After training is complete, you and your organization will be in possession of all the equipment, education, and knowledge necessary to begin using your cleaning management software to its full potential. You can choose to phase in usage and operation of your new customized solution at your leisure and convenience. If you encounter any issues, obstacles, or roadblocks during or after your launch, our team will be there to assist you every step of the way to ensure exceptional outcomes and long-term success.
---


Request a free demo and learn how SmartCleaner increases your operational efficiency and reduces labor costs.