U S Chemical: World-Class Formulas For Every Aspect of Cleaning, Laundry, and Warewashing
As with many things, growth and success are accomplished with unparalleled quality, innovation, training, and support.
We are proud that U S Chemical has chosen Regional Distributors, Inc. as a premier supplier of their advanced laundry, housekeeping/cleaning, and dishwashing chemicals and associated dilution control systems. U S Chemical is a division of Diversey, the leading provider of cleaning and hygiene products to the institutional marketplace both locally and worldwide.
Our strong local partnerships and best in class service and support paired with U S Chemical's easy-to-use, world-class formulas are helping our customers increase cleaning productivity, facility cleanliness, and hygiene – all while reducing operating costs and ensuring a cleaner and healthier environment.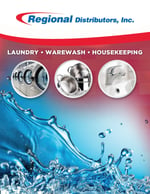 MicroTECH Cleaning, Warewash, and Laundry Products are designed to provide superior results, employee safety, and environmentally responsible packaging. Included in the program are:
Totally Enclosed Dispensing (TED) System that eliminates the chance of spills and splashes during product changeover.

Safety Data Sheet (SDS) Binders are given to each of your location managers and Instructional Wall Charts are provided for displaying near all product dispensing and use locations.

Routine and Emergency Service and On-Site Employee Training is provided by Regional Distributrors' trusted and professional Chemical Specialists. Our specialists have been trained by U S Chemical on proper sanitation and safety procedures, product application and use, and dispensing equipment installation and operation. Their focus is to deliver you timely service, quality results, safety, and controlled use costs. View our training video library for helpful how-to cleaning videos.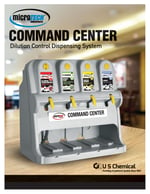 Dilution Control Dispensing Systems control usage with accurate and consistent dosing and eliminates the time and money wasted associated with manual dosing. Super-concentrates also allow for reduced inventory, fewer change-outs, and less packaging waste. The easy-to-mount wall systems free up floor space and are customized to fit your needs with options for 4-button or 1-button units (1-button units can be also joined together), choice of bucket fill or bottle fill (each product slot can be adapted per desired fill), and adjustable dilutions for maximum performance.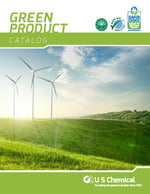 Committed to sustainability to meet your highest green standards. U S Chemical's plant is ISO 9001 and 14001 certified that guarantees efficient and sound environmental procedures are followed, consistent quality of products, and insures compliance of state and federal regulations. Their commitment to sustainability is evident throughout their product lines that include: post consumer corrugate, 100% recyclable bottles and canisters, NSF, Kosher, ozone friendly, rapidly biodegradable surfactants, and EPA Safer Choice and Green Seal® certified products offering highly concentrated formulas, which require less packaging and freight and a complete line of High Efficiency (HE) laundry products.

Testimonials and References
"We have been using Regional Distributors, Inc. for over five years and are very pleased with their service at all levels. Our Account Manager, Marylou Taylor, is always willing to assist us, offer new products, and inform us if there is a better solution for our needs. She also advises us on lower cost opportunities for products that we use regularly. Their customer service department is fantastic as well. Our laundry department is extremely satisfied with the products recommended by Regional, which work very well for our senior population. We have not had any skin integrity issues; the clothing is clean and smells lovely. This product line is affordable and works very well. Mac Greschak is the Regional technician that comes to service the system and he is always polite and pleasant. We highly recommend Regional Distributors, Inc. for any company's facility needs and I would be happy to speak with any company looking to make the switch to Regional."
Joan Gibbens, Administrator
The Courtyards Adult Care Facility
"I want to express the Jewish Community Center's appreciation for the smooth transition by the Regional Distributors team to the U S Chemical product line. Regional worked with us to keep our operations running smoothly while the transition was taking place and staff have already noticed improved towel softness. We are very happy with the products and services provided by Regional Distributors and U S Chemical."
Brian Dengler, Men's Spa Manager
Jewish Community Center Rochester
Submit the form on the right to schedule a free assessment! >>


---

View more of our janitorial, food service, and laundry solutions.