Regional Distributors presented a $10,000 check to a CDS program called Warrior Salute Veteran Services on Friday morning (WHAM photo). See full WHAM coverage.


Regional Distributors Honors Veterans During Veteran Appreciation Luncheon;
Continues Tradition of Annual Support
to Warrior Salute Veterans Services
May 14, 2022
Rochester, NY - Regional Distributors, a NYS Certified Women's Business Enterprise (WBE), Rochester Top 100 Business and Rochester Top Workplace, was proud to continue annual support to Warrior Salute Veteran Services by presenting a $10,000.00 check donation on Friday, May 13, 2022. Warrior Salute Veteran Services is a CDS Life Transitions company and local veteran support organization that provides clinical and rehabilitative therapies, transitional housing and family and community support services.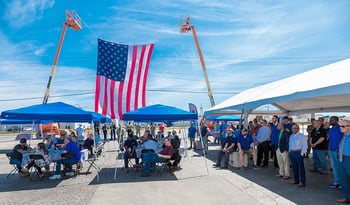 Along with the check presentation, the company hosted their annual outdoor veteran appreciation luncheon catered by Dinosaur Bar-B-Que to honor and thank local veterans. The event also included a special live performance by Matthew Stephens, Army Reservist and Commanding Officer of the 198th Army Band based in Rochester.
Despite ongoing and recent current events affecting many businesses and their ability to support not-for-profit organizations, owners Tracy Scalen, President & CEO, and David Scalen, Executive Vice President, with dedicated support from staff and customers, were grateful to be able to continue their tradition of annual support to Warrior Salute. Tracy, David and employees and military veterans of Regional Distributors were proud to present the $10,000.00 check donation to Sankar Sewnauth, President & CEO, CDS Life Transitions, Andrew Sewnauth, COO, CDS Life Transitions, numerous CDS and Warrior Salute leadership staff and, most importantly, Warrior Salute veterans. Veterans, first responders and active duty soldiers from the community also attended the event to honor and celebrate veterans.
The donation marks the sixth annual donation given by Regional Distributors to Warrior Salute with a total of $58,000.00 donated to date. Andrew Sewnauth explained the importance the funds will have on the program. "The money that they give us allow us to give free transportation, food, clothing - a new hope, and a new start for our veterans that suffered from post traumatic stress, traumatic brain injury, [or] military sexual trauma," said Sewnauth. "The things that can really tear down a person, these dollars help to build them right back up."
David Scalen encourages businesses to do what they can to support not-for-profits and the community during this time. "All the money that we raise - it stays local, and goes to their program, which is in Webster, and the great thing is, we get to see some of the guys that go through the program," shares Scalen. "You can see firsthand the work that you do - the money you donate, and how it affects your community - that's really important to us." Tracy Scalen adds, "Many businesses have been hit hard by the hardships caused by the last few years and none more so than not-for-profit organizations. We are especially grateful to be able to help Warrior Salute provide their vital services to our veterans during this time."
"It's important to us to be grateful for the sacrifices that the soldiers that defend our freedom, and preserve our freedom, make," said Scalen. "That's why we decorate our trucks the way we decorate them - that's why we fly a flag on this building every single day. And we will continue to fly it, and we will continue to hire and support vets."
The annual donations are made possible from a portion of proceeds from the company's Valor & Victory private label line of advanced commercial cleaning and dish machine chemicals. Enhancing the quality of life and supporting U.S. military veterans' transition back to civilian life is an important mission for owners Tracy and David Scalen, both who have families with a history of military service. "Both of my parents were in the Marine Corps and David's father was a World War II Army veteran and suffered from post traumatic stress disorder," shares Tracy Scalen. "Supporting our military vets is a personal and professional passion of ours. Many of our customers, and most of us in general, have a loved one that was or is a veteran. We all know the hardships they've endured while serving and, for some, those hardships continue after service. Our Valor & Victory line is a simple way for us and our customers to continuously support our veterans and help them regain their lives through the progressive services provided by the Warrior Salute program."
About the Valor & Victory Brand
With help from Regional's own military veteran employees, all of the products in the Valor & Victory line were designed and named to honor military veterans and represents a simple, but inspired way to recognize the service and sacrifice of military veterans and their families. Products are named after common military terms and technologies, such as Double Time Chlorinated Dish Machine Detergent and Liberator Cleaner & Degreaser. Product labels also include icons that visually reflect each product's military-related name, as well as common cleaning visuals, such as water and reflective design elements, and standard warewashing chemical color coding. In addition, truck graphics were created to promote the new line and complement the company's already existing and award-winning "Hiring Heroes" truck graphics. A "Be Loyal, Be Proud, Buy Local" icon and Greater Rochester Chamber of Commerce member logo are proudly included on the truck graphics to remind community members to support Rochester businesses, city services, and overall local economy.